Surgical intervention, whether by minimally invasive or conventional open techniques, is indicated when an anatomic complication amenable to a mechanical solution is present (eg, acute necrotizing pancreatitis in which the necrotic phlegmon is excised to limit a potential site of biotech sepsis, or hemorrhagic pancreatitis in which surgical control of bleeding is warranted). Depending on the situation and local expertise, this may require the talents of an interventional radiologist, an interventional endoscopist, or surgeon (individually or in combination).
The images below provide examples of the treatment of severe acute pancreatitis by means of minimally invasive techniques.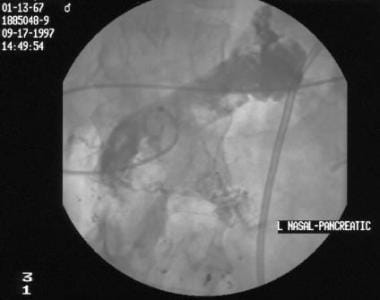 Endoscopic retrograde cholangiopancreatography excluded suppurative cholangitis and established the presence of anular pancreas divisum. Dorsal pancreatogram showed extravasation into retroperitoneum, and sphincterotomy was performed on minor papilla. Pigtail nasopancreatic tube was then inserted into dorsal duct and out into retroperitoneal fluid collection. The other end of the tube was attached to bulb suction and monitored every shift.
View Media Gallery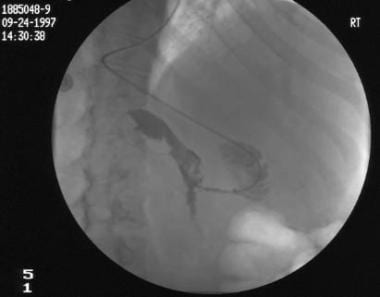 Although percutaneous drains remove loculated fluid collections elsewhere in the abdomen, nasopancreatic tube is draining the retroperitoneal fluid collection. One week later, the retroperitoneal fluid collection is much smaller (image is reversed in horizontal direction). By this time, patient is off pressors and is ready to be extubated.
View Media Gallery
Gallstone pancreatitis
It is optimal for patients admitted with gallstone pancreatitis to undergo cholecystectomy before discharge, rather than being scheduled for a later date as an outpatient. Patients discharged with gallstone pancreatitis without a cholecystectomy are at high risk for recurrent bouts of pancreatitis.
Aboulian et al found that in patients with mild gallstone pancreatitis, performing laparoscopic cholecystectomy within 48 hours of admission—regardless of whether abdominal pain or laboratory abnormalities had resolved—resulted in a shorter hospital stay and had no apparent impact on the technical difficulty of the procedure or the perioperative complication rate. [34]
In a retrospective study of data from 316 Italian patients admitted for nonsevere acute gallstone pancreatitis over 14 years, investigators found that less than one third (31%) underwent early laparoscopic cholecystectomy (≤72 hours). [35] The most common factors related to surgical delay were the need to (1) stablilize comorbid conditions and (2) preoperatively investigate the common bile duct; other factors were significantly advanced age and an increased incidence of clinical signs indicating the presence of common bile duct stones. Although early laparoscopic cholecystectomy appeared to shorten overall hospitalization, the clinical outcomes were similar between those who underwent early surgery and those who underwent delayed laparoscopic cholecystectomy. [35]
If the imaging and laboratory study findings are consistent with severe acute gallstone pancreatitis that is not responding to supportive therapy or with ascending cholangitis with worsening signs and symptoms of obstruction, early endoscopic retrograde cholangiopancreatography (ERCP) with sphincterotomy and stone extraction is indicated.
Pancreatic duct disruption
Damage to the pancreatic ductal system may allow the pancreatic juice to leak from the gland. The sudden development of hypocalcemia or a rapid increase in retroperitoneal fluid on computed tomography (CT) is suggestive of this condition.
When imaging studies provide corroborating evidence, the condition is initially managed by percutaneous placement of a drainage tube into the fluid collection under the guidance of ultrasonography or CT scanning. [4] Fluid amylase or lipase levels in the 10,000s strongly suggest the presence of a ductal disruption.
In the appropriate clinical setting, ERCP confirms the diagnosis and provides a treatment option. Transpapillary stent placement or, preferably, placement of a 6 French nasopancreatic tube attached to an external bulb suction device can successfully treat leaks by removing the sphincter tone and changing the dynamics of fluid flow in favor of ductal healing. Occasionally, leaks are associated with downstream stenoses that are also amenable to endoscopic treatment.
Refractory cases may warrant surgery. If a persistent leak is present in the tail of the gland, a distal pancreatectomy is preferred. If the leak is in the head of the gland, a Whipple procedure is the operation of choice.
Pseudocysts
Peripancreatic fluid collections persisting for more than 4 weeks are referred to as acute pseudocysts. Pseudocysts lack an epithelial layer and thus are not considered true cysts. They also differ from true cysts in that they are usually filled with necrotic debris rather than fluid. Accordingly, pseudocysts may be better described by the term organized necrosis.
Most pseudocysts can be followed clinically. However, when they are symptomatic (ie, associated with pain, bleeding, or infection) or are larger than 7 cm and are rapidly expanding in an acutely ill patient, intervention is indicated. Several different therapeutic approaches may be implemented, depending on the anatomic relations and on the duration of the natural history of the complication.
In selected patients with very large fluid collections, percutaneous aspiration of pancreatic pseudocysts is a reasonable approach. Even though treatment failures are common when the pseudocyst communicates with the pancreatic ductal system, percutaneous drainage serves as a temporizing measure that may later lead to successful endoscopic or surgical intervention. Often, an infected pseudocyst (which by definition is regarded as a pancreatic abscess) can be successfully managed by means of percutaneous drainage.
Pseudocysts may also be managed endoscopically with transpapillary or transmural techniques. Transpapillary drainage requires the main pancreatic duct to communicate with the pseudocyst cavity, ideally in the head or body of the gland. The proximal end of the stent (which should be smaller than the diameter of the pancreatic duct) is placed into the cavity. The technical success rate is 83%, the complication rate 12%. Generally, however, pancreatic stents are difficult to monitor, are prone to obstruction, and carry an increased risk of infection and ductal injury.
Some noncommunicating pseudocysts may be amenable to transmural enterocystostomy. Technical success requires a mature cyst that bulges into the foregut, and the distance from the lumen to the cyst cavity should be less than 1 cm. The success rate is 85%, the complication rate 17%. The transduodenal approach is associated with fewer complications and recurrences than the transgastric approach.
On the basis of prospective studies in the 1970s, surgery was recommended for persistent large (> 7 cm) pancreatic pseudocysts because complications developed in 41% of patients, 13% of whom died. Internal pseudocyst-enteric anastomosis became the standard of care, with an operative mortality of 3-5%. This dogma was subsequently challenged by 2 retrospective studies in which patients with smaller (ie, < 5 cm) asymptomatic pseudocysts rarely (< 10%) developed complications.
Infected pancreatic necrosis
The clinician cannot rely on clinical findings alone to differentiate infected and sterile pancreatic necrosis. When clinical signs of infection or SIRS are present in the setting of necrotizing pancreatitis, CT-guided needle aspiration is indicated.
Surgery is recommended when large areas of the pancreas are necrotic and percutaneous CT-guided aspiration demonstrates infection on the basis of a positive Gram stain. Antibiotic therapy alone is not sufficient to achieve a cure. Aggressive surgical debridement and drainage are necessary to remove dead tissue and to clear the infection.
A study of patients with necrotizing pancreatitis and infected necrotic tissue determined that a step-up approach to treatment (consisting of percutaneous drainage followed, if necessary, by minimally invasive retroperitoneal necrosectomy) yielded better results than standard care with open necrosectomy. [36] Patients who received step-up treatment had a lower rate of major complications (new-onset multiorgan failure, multiple systemic complications, perforation of a visceral organ, enterocutaneous fistula, or bleeding) and death.
Pancreatic abscess
Pancreatic abscesses generally occur late in the course of pancreatitis. Many of these respond to percutaneous catheter drainage and antibiotics. Those that do not respond require surgical debridement and drainage.
Source: http://emedicine.medscape.com/article/181364-treatment
BUY NOW For Sale 70%!
Acute Pancreatitis Treatment Management: Approach
La femme jenapharm beipackzettel ciprofloxacin
Actoverco - Official Website
Cached
8 C17H21ClFN3O4 - PubChem
Answers - A place to go for all the Questions and Answers you
Appendix V - Adverse-drug-reaction reporting details
Betamethasone eye, ear and nose drops (Betnesol, Vistamethasone)
BUY NOW For Sale 70%!